Looking back, I see that it's been almost two months since I last blogged! Quite a bit has happened in that time.
Perhaps the most notable event was that I sold my 1967 Volkswagen Bug:
While the Bug was not a bad car, I had grown weary of constantly tinkering with it to keep it in shape. During my tenure with it, I believe it was inoperative as much time as it was working well. Most of this had to do with time constraints on my part. In addition, it had no heat or air conditioning, a poor sound system, lots of road noise, and was scary over 65 mph because the front end would get light. I also got rid of the rest of the VW-specific parts and tools so I wouldn't be tempted in the future (I have a nostalgic streak a mile wide). If I get another classic, it'll probably be American.
I briefly looked at "real" cars while in the process of selling my Bug, and determined it wasn't worth it to me to tie up somewhere on the order of 10 grand for something decent. I decided to get by just using my motorcycle and borrowing a car from Mom or Pop when I absolutely needed to. However, two days after I signed over the title and pocketed the VW cash, a friend from work told me about a car his friend was selling: a 1989 Toyota Corolla GT-S with 221k miles. At first I thought it must be beat with so many miles, and why the heck would I want a Corolla. I was informed that it was in truly excellent condition with no major mechanical issues and was still daily driven. The guy was selling it because he was buying a Prius. I kept in contact with him for the next month or so while the titling issues with the Prius were worked out and eventually test drove it to the mechanic's for a check-up. The car was indeed in excellent condition - the engine ran quiet and strong and the paint was still shiny. Long story short, I ended up buying it for a great price after spending a little bit of time and money getting it to pass the smog test. I'm tickled pink about the car - it just feels right and is a good match for me. Here is a picture of the same model but not mine (mine is black):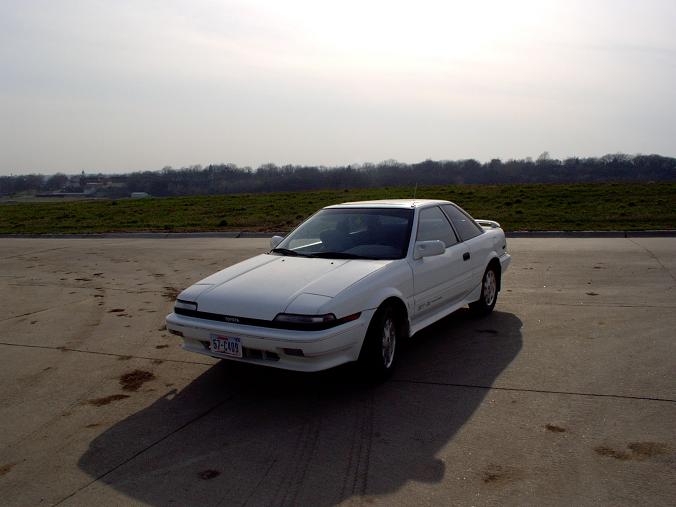 In other news, I have 2 weeks left of school - my last exam is next Thursday. I've grown very tired of school. I have issues with certain of USC's policies and practices, which I will save for an end-of-my-master's review (rant) of the program. Suffice it to say, I am very glad that this chapter in my life is nearly at a close and won't look back after I'm done. I just have to press on for the next two weeks and give it one last push.
Sanctify! is studying I Peter, which is sometimes hard to digest - Peter is lofty. I am also kind of bad about preparing. We're going to start Isaiah in the next couple months. It will be very cool but I'm certain difficult as well at times.
Not much else is happening; I'm planning to take a couple trips this summer and early fall - one up the coast in my new car to see Daniel in Napa Valley (he completed the coursework portion of culinary school and began his externship at Auberge du Soleil, a resort near St. Helena) and a flight to St. Louis to visit friends and family there and in Springfield, IL.